We had Denise and Kevin from Burnells cater our wedding this past July. We didn't really know what we were doing and what we needed. Denise and Kevin were on it! They gave great suggestions and came up with an impressive menu. Both Denise and Kevin really enjoy what they do so we never felt like we were bothering them when we had 100 different questions. When we ran into a little hold up with an insurance issue Denise and Kevin said, "no big deal" and contacted her friend who solved our problem. It was so nice working with people that were so helpful. On the day if the wedding Denise and Kevin crushed it. We were so busy running around like crazy people but Denise and Kevin took care of all the culinary needs. And the food was five star! We had bbq sandwiches with the best bbq sauce around, lobster Mac and cheese, salad, and a ton of delicious apps that included fried chicken and waffles with Vermont Sticky maple syrup. Everything was perfectly done and the number of compliments that we received after the wedding were endless! All in all, Denise and Kevin are helpful, easy to work with, and come up with food ideas that are just exquisite. I highly recommend them for any of your catering needs!"
**From Emmy, bride for a 200 person wedding on July 7, 2018
"Denise and her staff went beyond what we expected in catering our daughter's wedding with her food truck. The food was delicious including barbecue which ,being from North Carolina I am very fond of and particular about. I can honestly say it was as good as I have ever had in N.C. or elsewhere. I was uncertain about Mac and cheese with lobster but it turned out to be delicious and a new culinary treat for my wife and I.
The crew had everything set up on time and ran everything smoothly throughout the wedding. Finally they cleaned up everything afterwards
so it was all just as it was before the wedding. We heartily recommend them and their food."
**From Allen, father of the bride for 200 person wedding July 7, 2018
"Burnells catered our daughter's wedding reception. Everything was fabulous!! Denise and Kevin were so nice to work with to plan the perfect menu. I didn't worry about a thing! The food was delicious! I highly recommend Burnells Farmhouse to cater any event!"
**From Joan, mother of the bride for 75 person wedding June 22, 2018: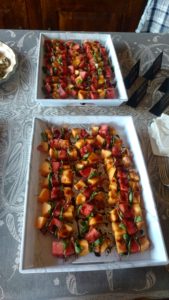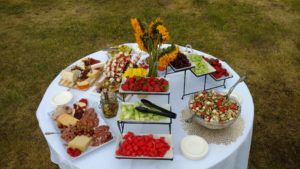 Our food truck catering services are available anywhere in the Gunnison Valley.  We can also rent our beautiful courtyard on Main Street in Gunnison for private events.  Our menu is flexible depending on event themes, budget, and preferences.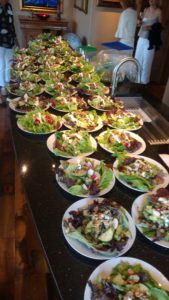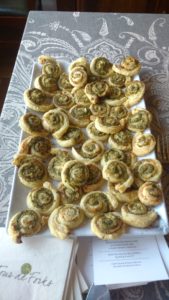 We have countless menu dishes and ideas, contact us to find out everything that we can offer.  Email BurnellsFarmhouse@gmail.com or call (970)209-9661 to talk more about your plans and ideas.